It goes without saying that eldercare brings a host of new and confusing terms for families who are just starting out to navigate the waters of caring for an elderly loved one.  To make matters more complicated, different terms are used in different regions of the US, and even in the same area, many professionals use differing terms to describe the same type of care.
One of the most confusing aspects for families is the question of a nursing home vs. assisted/independent living.  The subject becomes even more complicated when you consider the fact that for years, the term "nursing home" was used as a blanket term to describe several types of old age homes.  Many people still associate that term with all levels of care, including assisted or independent living.  Just think back to the Golden Girls, when Sophia (played by the late Estelle Getty) feared returning to the dreadful "Shady Pines" nursing home.  In fact, Shady Pines was much more like an assisted living facility, rather than a nursing home.  Fear not Sophia, our blog post today will help to clear up those terms a bit.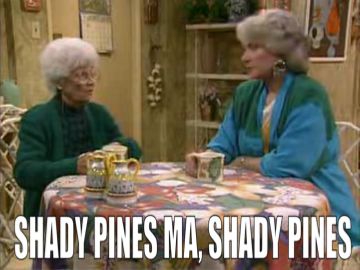 Here is a general rundown of what each type of facility provides, as well as a helpful infographic from AssistedLivingFacilities.org and SkilledNursingFacilities.org.
"Assisted Living" is a blanket term often used to describe a range of different facilities that usually provide a communal living environment where residents can live in a setting that provides basic assistance and a safe environment for those who are starting to need help with daily tasks.  Assisted living facilities usually offer meal preparation, cleaning, activities, and other basic services.  The term assisted living is also often used to cover the sub-categories of independent living or memory care.  Independent living facilities offer similar services, but with a more hands-off approach, designed for residents who are still largely independent and self-sufficient.  Conversely, memory care is designed for persons who need a more supportive environment due to diseases that cause cognitive impairment, such as dementia or Alzheimer 's disease.  All in all, assisted living is designed to provide support while maintaining a more homelike atmosphere for its residents.
"Nursing Homes" or "Skilled Nursing Facilities" are designed for people who need a higher level of medical care and support.  These facilities often resemble hospitals, with nurses and medical staff present at all times.  Residents in nursing homes are usually mostly or completely unable to care for themselves without substantial assistance.  Nursing homes generally have a much higher cost per month when compared with assisted living facilities, but unlike assisted living (in most cases), government assistance is usually available to help pay for a nursing home stay.  However, these government programs are usually dependent on a person's ability to pay and their financial resources.  Nursing homes can provide general medical care to treat a variety of disabilities, or they can provide acute care to treat serious illnesses that require a higher level of medical attention.
See the infographic below to learn more about the differences between these two types of care.