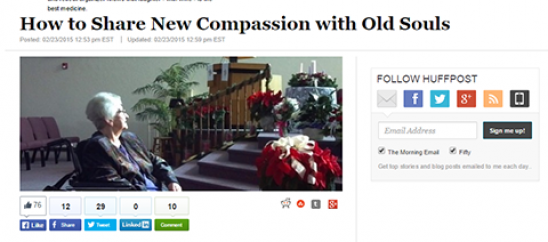 Huffington post blogger Elanie Ambrose shared her thoughts last week in her thoughtful post titled "How to Share New Compassion With Old Souls", which featured in Huffington Post's POST50 section.
In her blog, she remarks on the phenomenon that seems to have affected volunteerism in America in recent years.  Volunteers tend to find it much more appealing to connect with and to seek out opportunities to help children, pets, or with natural disasters.  This is particularly true for people who tend to volunteer on an irregular basis.  This isn't to say that volunteers are being neglectful, volunteering for any cause is useful and needed today, but it is important to remember elders when looking to spend time helping others.
Click on the picture below to read Ambrose's post on huffingtonpost.com: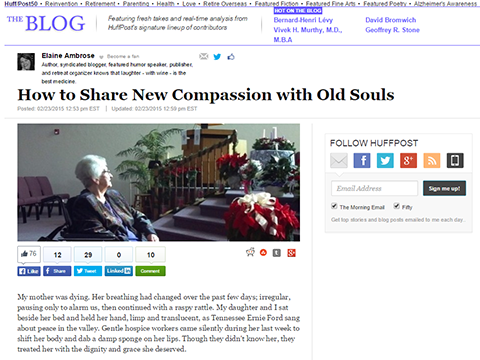 Ambrose gave a few examples of how our society can reach out and help elderly citizens, and I am going to give a few of her suggestions here:
1.   Offer to write letters for them or assist them with calling a friend or relative.
It is easy to forget how elders can have trouble working with phones (particularly cell phones) or email.  Offering to help them with this task can help to ease their stress greatly and allow them to connect with family members that they have not been able to reach.
2.   Offer to teach a class at an assisted living facility.
Many assisted living facilities have great programs that provide the residents with ways to brighten their mood and express themselves. Studies have found that an elder's overall wellbeing is vastly improved when they have access to music and the arts (see our December 2014 post about Alzheimer's and the Arts to read more).  There have even been studies that show that their memory retention is greatly improved through the arts.  Offering to teach a class or a session with assisted living residents can really help to improve their mental wellbeing and health.
3.   In public, help the elderly by opening doors, giving your seat or place in line, or paying for their lunch.  Make eye contact and smile.
It goes without saying that we should be respectful to our elderly generation and help them with simple tasks such as opening the door, but the second part of her suggestion is especially important.  Making eye contact and going out of your way to acknowledge the elder can give them an often much needed sense of connection with other generations.  The elderly are often (unfortunately) used to being treated differently, even if in a well-meaning way, and making eye contact and communicating with them as though they are our peers, and not as though they are sick and fragile, can really help.
Ambrose cited a few meaningful quotes in her post, and this one, which I will leave you with, truly hits home:
"Our society must make it right and possible for old people not to fear the young or be deserted by them, for a test of a civilization is the way that it cares for its helpless members." – Pearl S. Buck