A Place for Mom has become a familiar name for families who are faced with making decisions on finding a senior living placement for their loved ones.  Last week, A Place for Mom featured Stuart Furman on their Senior Living Blog.  The article, titled "Why Estate Planning Procrastination Kills Your Options" explains just how much trouble and stress estate planning procrastination can cause families, and why it is important to plan ahead to keep future care options open.  Click the image below to read more.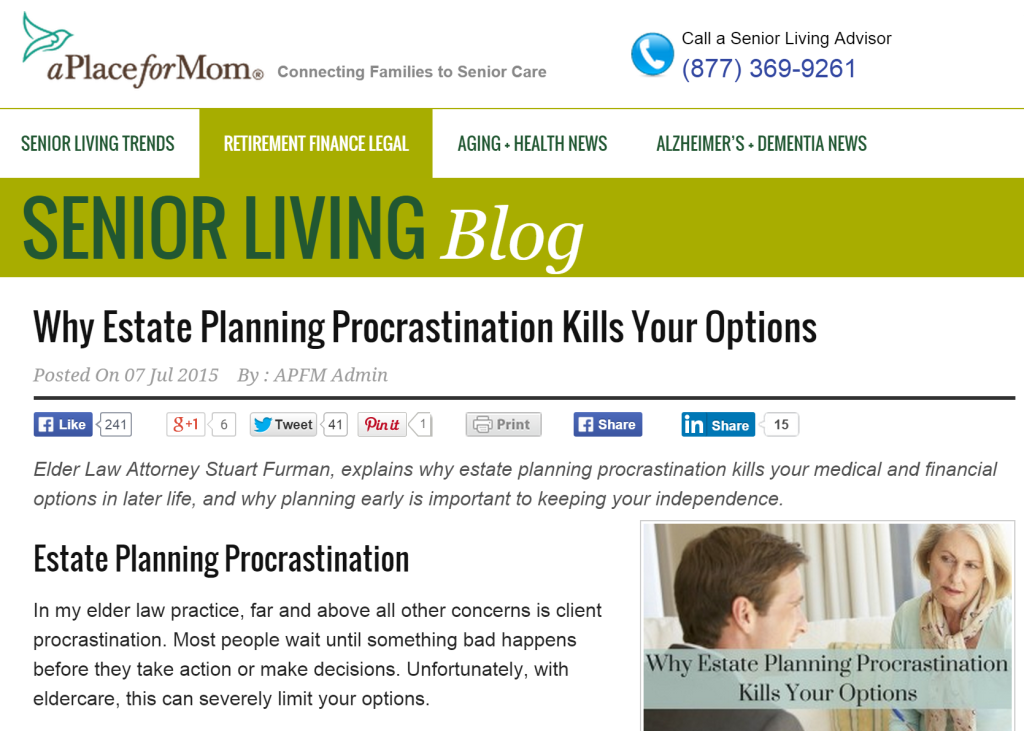 It is no secret that procrastination can lead to stress for caregiving families, but why exactly is it so important that you and your family tackle the preparation well ahead of time?  Here are a few key issues:
1.  Ability to Sign Documents: A parent cannot validly execute any documents if they are no longer mentally competent to do so.  This inability to sign documents can cause a whole buffet of problems for the family, and force a family to deal with the issue via a tiresome and lengthy public court proceeding.
2.  Clear End-of-Life Wishes: An incompetent parent cannot clearly communicate his or her end-of-life decisions, health care decisions, bequests, and more.  Making these decisions ahead of time, and laying them out clearly via properly executed estate planning documents, can save a family from unnecessary emotional and financial stress.
3.  Changing Living Conditions to Meet Care Needs is Easier: Without a clear-minded parent, residential living choices cannot be communicated to the children.  Addressing these issues well before memory issues arise can make care decisions less painful and leave more options available for families.
4.  Maintain Family Harmony: Without clarity, knowledge and detailed planning early on in the eldercare journey, the stress levels can go through the roof, a lot of money may be needlessly spent and relationships between family members can become strained as each has their own idea of how, and where, the care should be provided.
5.  Greater Access to Financing Long Term Care: Financial planning options for long-term care may no longer be available due to the health of the parent.  Many care and finance options can depend on the health of the elderly loved one, or on their ability to validly execute legal or financial documents.  Don't wait too long and let your options slip away.
Check out the article directly on A Place for Mom and read more about these important issues and what you can do to get ahead of the game and prepare for a loved one's care.